Training courses all over the country for prosecutors, judges, lawyers, psychologists, social workers and psychiatrists.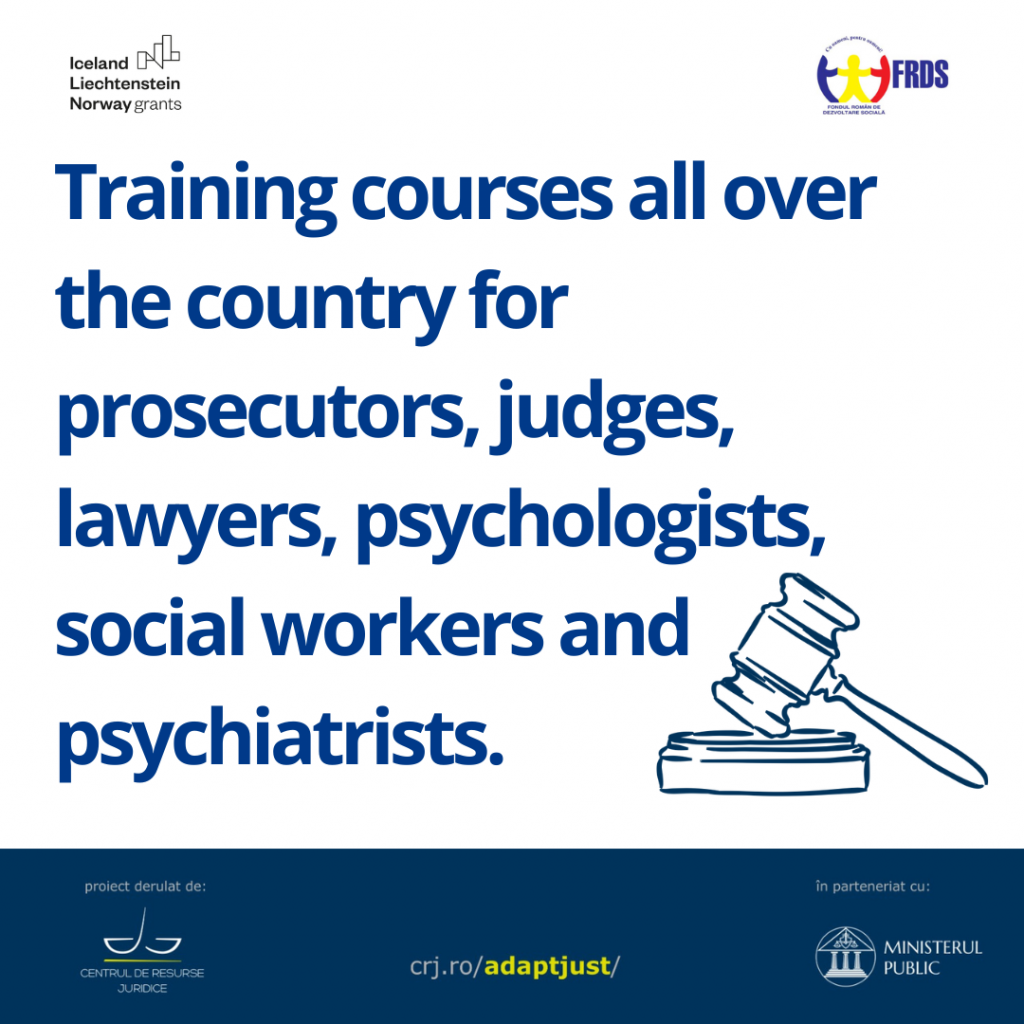 Romania has been condemned by judges of the European Court of Human Rights in 16 cases for violating the rights of people with intellectual and psychosocial disabilities confined in residential centres and psychiatric hospitals.
The Centre for Legal Resources (CRJ) and the Public Ministry – Prosecutor's Office of the High Court of Cassation and Justice invite you to participate in one of the training courses organised within the AdaptJust – Accessible Justice for People with Disabilities project, with support from the Ministry of Justice. Topics covered: enforcement of ECtHR judgments, procedural adaptations for petitioners with disabilities, deprivation of liberty vs. independent living in the community, hearing petitioners with disabilities, evidence gathering, effective investigation, etc.
The course agenda is available HERE.
Since 2003, through the "Advocacy for Dignity" programme, the CRJ has been monitoring how the rights of people with intellectual and psychosocial disabilities placed in residential centres or psychiatric hospitals are respected and referring cases to the authorities and courts. The case "CRJ on behalf of V. Câmpeanu v. Romania" (2014) was brought before the judges of the Grand Chamber of the ECtHR following an unannounced visit by the representative of the CRJ to the psychiatric and security measures hospital in Poiana Mare, Dolj, in February 2004. To date, the CRJ has reported dozens of human rights violations in social and psychiatric institutions, drafted legislative proposals and contributed to the training of legal, psychological, social and psychiatric professionals.
ADAPTJUST Course Calendar:
CLUJ: 25-27 May 2022
TIMIȘOARA: 8-10 Jun 2022
CONSTANȚA: 15-17 Jun. 2022
SIBIU: 29 Jun.-1 Jul. 2022
COVASNA: 6-8 Jul. 2022
BAIA MARE: 31 Aug – 2 Sep 2022
TÂRGU JIU: 21-23 Sep. 2022
BUZĂU: 28-30 Sep. 2022
IAȘI: 12-14 Oct. 2022
ORADEA: 9-11 Nov. 2022
SUCEAVA: 16-18 Nov. 2022
RÂMNICU VÂLCEA: 7-9 Dec. 2022
GALAȚI: 25-27 Jan. 2023
BUCHAREST: 1-3 Feb. 2023
BUCHAREST: 22-24 Feb. 2023
TÂRGU MUREȘ: 15-17 Mar 2023
PLOIEȘTI: 22-24 Mar. 2023
CRAIOVA: 5-7 Apr. 2023
BACĂU: 26-28 April 2023
BUCHAREST: 24-26 May 2023
For more details:
Georgiana Dărăștean, course coordinator and legal expert AdaptJust
georgiana.darastean@crj.ro / 0770.981.801
To register, please fill in the form below.
Note: After filling in the form, only those selected will be contacted by the Legal Resource Centre team.