INVITATION To the International Conference
CAN JUSTICE BE CHILD-FRIENDLY? Access to Criminal justice for children with intellectual and psychosocial disabilities. International Perspectives.
Organized within the project Child-Friendly Justice: Developing the concept of social court practices, funded by the EU REC programme 2014-2020 // 878552 – CFJ-DCSCP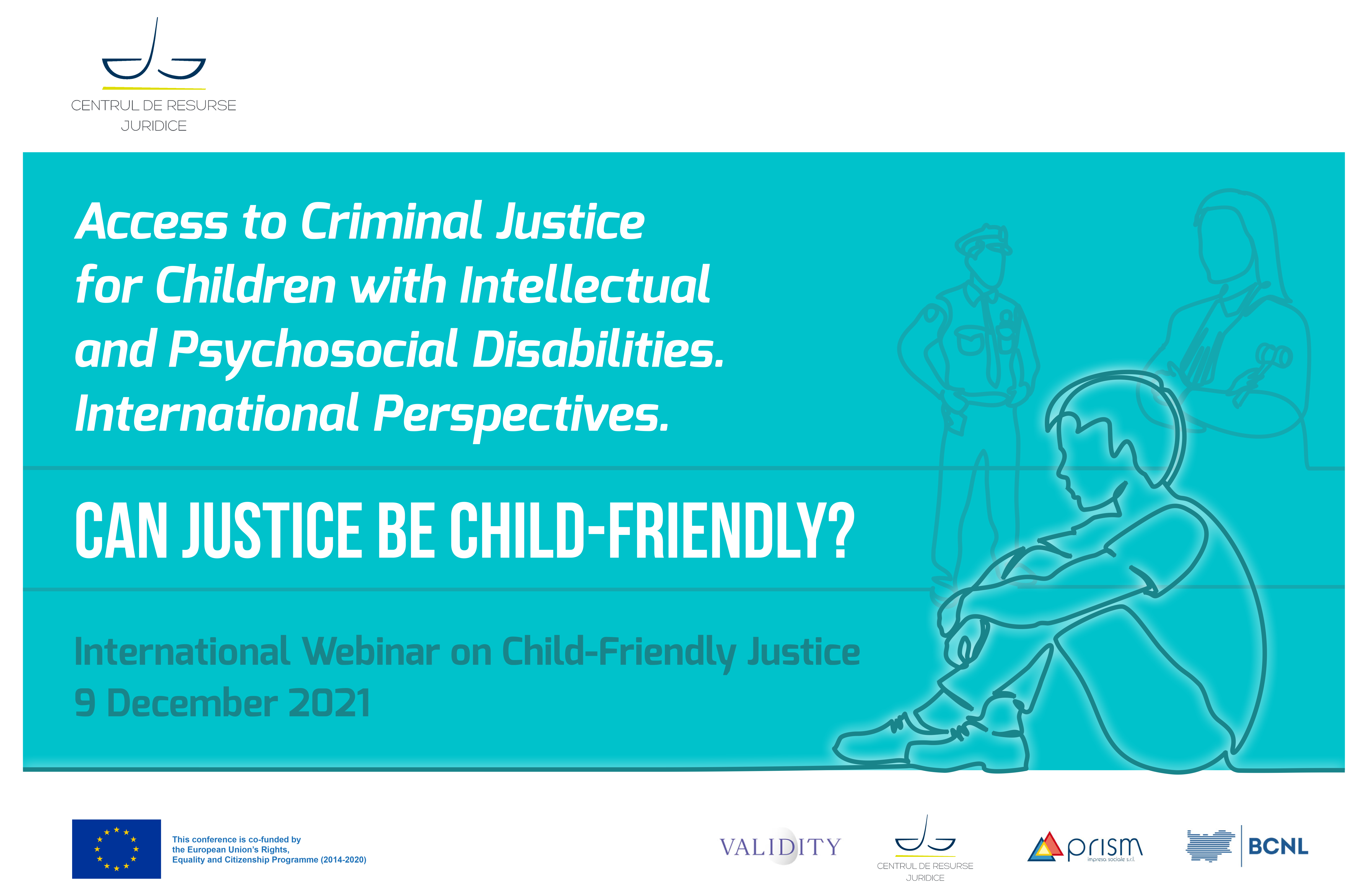 Bucharest, 09 December, on-line Webinar
12.00 – 16.30 CET
Centre for Legal Resources Romania, Validity Foundation, Bulgarian Center for Not-for-Profit Law and PRISM Impresa Sociale s.r.l Italy have the pleasure to invite you to the International Preconference webinar, part of an International Conference series on Child-Friendly Justice focused on children with disabilities – which will be held in person in spring in Bucharest. This international preconference webinar is the third in a Conference series on Child-Friendly Justice for child victims and child suspects or accused of committing a crime that have mental disabilities, are unaccompanied or are deprived of parental care. It is organized within the project Child-Friendly Justice: Developing the concept of social court practices. The webinar will be held online in Bucharest on December 09 2021. The sessions in spring will be accessible face-to-face to Romanian and international participants.
Project CFJ-DCSCP seeks to help children feel better understood, safe and comfortable to talk while in contact with the criminal justice system. Children affected by a crime and children accused of breaking the law need effective support. Still in many countries they feel scared and ignored when talking to people from the criminal justice system. This is why individual assessments are important to ensure appropriate measures are adopted to promote children's participation in criminal proceedings.
The goal of the International Preconference webinar is to discuss the results of the work of project in Romania and specifically whether it is possible to ensure in Europe inclusive, participatory and child-friendly approach in legal procedures, that affects children? How can justice become accessible and participatory for children with intellectual and psychosocial disabilities? What are the barriers for the Individual Assessment to become an effective tool? This webinar event will also be devoted to present the current state of well-being of children with disabilities and the local context in Romania.
The children who will benefit from the project activities are children with mental disabilities, unaccompanied minors, children without parental care. The professionals targeted by the project are the legal professionals, the social workers and psychologists. The project is being implemented by a consortium of European NGOs coordinated by Validity Foundation.
The draft programme of the Webinar HERE. The conference will start on December 09 at 12:00 P.M. CET and will end at 16:30 P.M. CET.  The second part of the Conference will be held in Bucharest next spring, and the date is to be announced.
Languages: The basic language for the conference will be English. The organisers will provide translation from English to Romanian language and sign-language.
Registration: Please confirm your participation by filling in the online registration form until latest 8 December 2021.
REGISTRATION HERE.
Should you have any further questions, please do not hesitate to contact office@crj.ro .
Join us and be part of the discussion!
We are looking forward to welcoming you to the Conference!
Georgiana Pascu
CLR Program Manager