Centre for Recovery and Neuropsychiatric Rehabilitation Măciuca – a New Episode in the Long Series of Abuse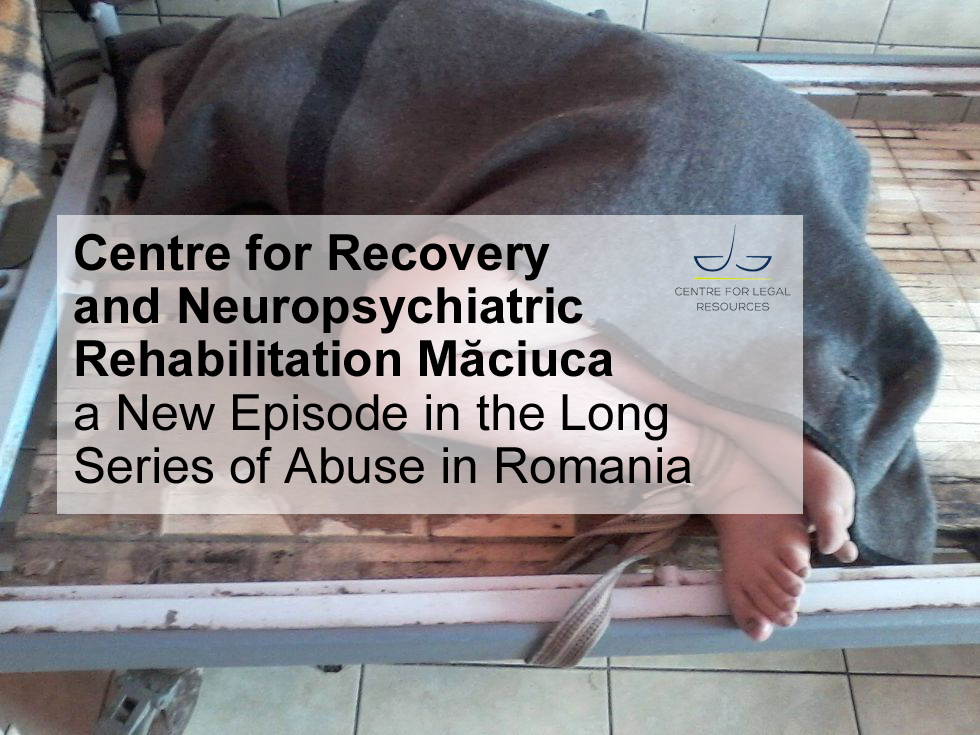 Foto from www.tolo.ro
Bucharest, January 24th 2017. The Centre for Legal Resources (CLR) emphasizes that the abuse perpetrated on the people with mental disabilities, locked in the Centre for Recovery and Neuropsychiatric Rehabilitation in Maciuca, Valcea county, Romania, and the lack of interest regarding the prevention of this abuse represents inhuman and degrading treatment, to which over 24.000 people are being subjected for years.
Humiliation, inhuman and degrading treatment, torture. More shocking, this treatment is applied to extremely vulnerable people who have been living – some for decades – on the edge of humanity. Although they should be in the care of the state. Forgotten by the others, until they end up forgetting about themselves. This is how we would describe the recent photos with the adults kept at the centre for neuropsychiatric recovery in Maciuca. This is how we would describe them. But also how the European Court of Human Rights would refer to them, as well. Why torture? Because such treatments induce fear. Because they show to which extent someone can go in denying human decency.
The images from the Maciuca centre are among the toughest the Centre for Legal Resources has seen in the past years, despite the hundreds of unannounced visits we have done in such institutions across Romania, precisely to prevent and protect people from this type of abuse.
The authorities that should have had a reaction in this case are yet to say a word. Neither the Agency for Payments and Social Inspection in Valcea, nor the Country Council, under whose authority lies the General Direction for Social Assistance and Child Protection (GDSACP). Neither the Labour Ministry, which is responsible for giving the accreditation to the suppliers of social services, nor the Prosecutor's Office, the one that has to immediately react, in order to protect this vulnerable members of the society.
Maciuca – just another case among other 387
Along the years, CLR has gathered information about Maciuca centre, indirectly, after unannounced visits in the nearby Babeni centre and as a result of a series of requests for public information. This way, we have discovered that in Maciuca, people die. On October 10th 2016, we were told in a written request that three people had died recently. One who was 39 years old and suffering from associated disabilities had died of acute cardiorespiratory insufficiency. The other two, aged 46 and 79, had died of cardiopulmonary arrest.
But people don't just die in Maciuca. They die like hundreds of others die in centres across Romania: with no autopsies, without their deaths being notified, with no detailed information regarding the cause of their deaths. Despite the fact that these should be considered and treated as suspicious deaths.
In total, 21 people living in such centres have died, in the first 9 months of 2016, only in Valcea county. Another 59 died there from 2010 until 2016. In their place, other 35 beneficiaries were brought from across the country to fill the empty beds. It's like an endless cycle of people with disabilities changing addresses, changing walls, but never changing life conditions.
Although Romania is part of the Convention for people with disabilities and is bound deinstitutionalize the people locked in such centres, our authorities have misunderstood the terms (Article 19, Independent life and integration in community). Because instead of creating the proper conditions and integrating the beneficiaries in society, they only move them from here to there.
In fact, the Maciuca centre is a recent example in this sense. Part of the young adults living here were recently moved from another centre in Babeni, a place CLR has monitored in the past two years.
The tragedy of this whole reality is that the tied up people from Valcea are not an exception. This method seems to be more of a habit. In the past two years, the CLR monitors have discovered other four centres where such shocking treatments are in use. For instance, the Bolintin Vale Centre, in Giurgiu country.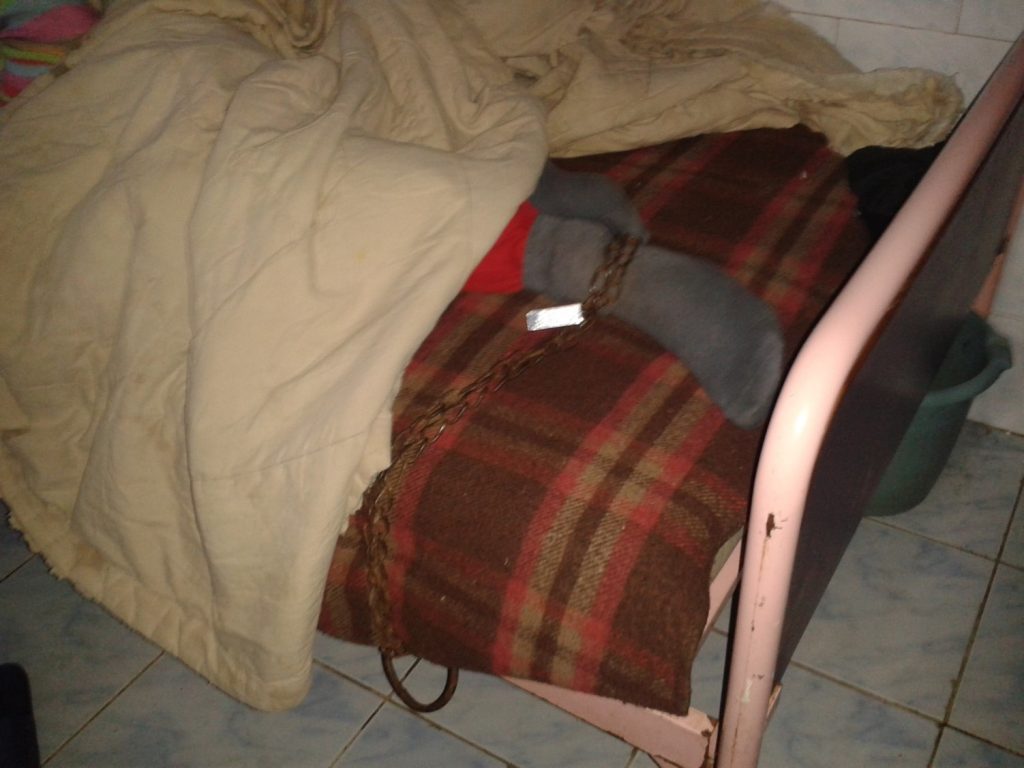 Photo from CRRN Bolintin Vale
There, we found young people tied to their beds with thick metal chains, neglected, forgotten in filth and their own urine. We followed this case intensely and we managed, after a long series of official requests, to close down the centre and move the beneficiaries to other places. The same degrading conditions, the same inhumane treatments as in Maciuca.
Means of containment
However used these methods might be, no, it is not normal to tie people to beds, fences, benches. There is in fact a law (Law 487/2002 for mental health) that states all the conditions and exceptional means through which a person can be subjected to such a treatment. And the reason for that is precisely to avoid any type of abuse.
For instance, these methods of containment can be used only under the strict recommendation of a psychiatrist, for very short periods of time which are strictly mentioned in the beneficiary's medical files. And most importantly, with means that cannot harm the person. (articles 26 and 39 of Law 487/2002, article 21 from the Norms of applying the law).
The problem is that the law is so often misinterpreted. And sometimes, it is turned into an excuse used by the employees in recovery centres to avoid the hard job of guarding and caring for their beneficiaries. The undeniable proofs of that are the wrists of the youngsters living here. Their often deep visible wounds, which we have noticed along the years, in our visits across the country, prove they aren't the results of temporary containment. But of longer ones.
Shocked at seeing these cases in Romania, the European Council's commissioner for human rights has described these people as "invisible". Invisible to us, but most of all to the authorities. Vulnerable ill young adults, who have become deprived of even the smallest rights, the ones that guarantee the essence of their decency.
"Objects" devoid of autonomy and dignity
One of the major problems of people with disabilities who are locked in recovery centres is the impossibility of expressing a discontent, of filling a complaint. Of saying something bothers them. Nobody thinks they could have something to say, because they are not considered independent human beings, being judged only through their mental illness or intellectual disability. Which – isn't it?! – makes them incapable of anything.
Some of them could have truly had a chance to a normal life. But after suffering abuse after abuse, they stop making the difference between what's normal and abnormal. Others, in a healthier state, do not have access to a pencil, to an envelope or a postmark, to a phone, to simply verbalise their grief. They aren't allowed to contact their family, they don't know how to ask for a lawyer's help. And so often, their legal tutor – the only one who could listen to their complaints – is, in fact, the state. Through it's institutions that limit their freedom instead of taking care of them.
The same institutions that so often deny our monitors full access in such centres, despite the protocols signed by CLR with the Ministries of Health and Labour.
Because at the end of the day, beyond all the excuses, all the human laws and all those passed by our leaders; tens, hundreds, maybe thousands of people go to bed thinking that the way they lived that day was normal.
We conclude by saying that in 2014 Romania was condemned by the ECHR for violating the right to life of Valentin Campeanu, a 19 year-old boy, who was treated in a similar manner as the youngsters in Maciuca.
For the past 14 years, we have been paying unannounced visits to Romanian centres, representing the abused or deceased people with disabilities, helping them protect their rights and raising public awareness. However, the ones who should truly prevent the abuse, take attitude and protect these vulnerable people from inhumane and degrading treatments are:
The General Direction for Social Assistance and Child Protection
The Agency for Payments and Social Inspection
The County Councils
The National Authority for People with Disabilities
The Ministry of Labour and Social Justice
The General Attorney's Office.
Contact person: Georgiana Pascu, program manager, Centre for Legal Resources, tel. +4 0729 881 159.