Meetings of the Permanent Working Groups
Meetings of the Permanent Working Groups within the network "Integrity and Good Governance"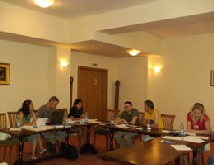 The access to information, the improvement of the public policies, cutting red tape and fighting against corruption were the main issues debated during the meetings   between the reprezentatives of the local NGOs and the Center of Legal Resources, convened in Constanta ( on the 21st-23rd August) and Brasov (on the 28th-30th August), on the occasion of Permanent Working Groups follow ups.   The meetings were part of  the project "Integrity and Good Governance", aiming at the setting up of the national networks made up of NGOs active in the field of the integrity and good governance.
The participants set out the activities and the functioning of the Groups for  the Local Integrity – local entities made up of the NGOs, education institutions, business supportive organizations and public authorities, with the purpose to putting into practice the strategy and the action plan of the network "Integrity and Good Governance"  for the development of the communities. Nevertheless, the structure of the monitoring report of the public institutions in the field of corruption fighting and prevention (including the monitoring of the Strategy 2008-2010) and an action plan for the future were established.
The Permanent Working Groups' objective is to monitor, to supervise from the central level the evolutions on the ground and to draw up proposals and points of view. The resulted reports within these groups will be disseminated to the public authorities and to the NGOs  operating in the field  of public policies and will be publish on the network's website: www.guvernmaibun.ro.