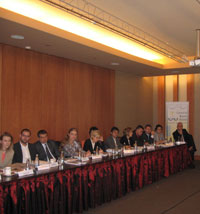 CLR has launched on the 29th October the "Report regarding the enforcement of the legislation on the ethics counselors", conducted in partnership with Pro Democratia Association. The Report was made public within a round table "Counseling Ethics and Integrity in Public Administration – realities and perspectives". The ethics counselors have a low contribution in ensuring the integrity of the public servants and the public authorities have significant  deficiencies in the application of the rules on access to information of public interest, the report says.
The event was attended by specialists from local and central public administration       ( ministries, government agencies, mayors, decentralized public services), ethics advisers from different authorities and institutions of public administration, civil society representatives, journalists.
The round table was organized within the project  "Ethics adviser – Balance and Integrity in the Public Administration", developed by the Center for Legal Resources in partnership with Pro Democratia Association and funded by the Governments of Iceland,  Liechtenstein and Norway through the European Economic Area Financial Mechanism.