The Centre for Legal Resources organized 10 series of training programs for 180 civil servants and contract staff in 30 public institutions (town halls, county councils and Institution of the Prefect in Valcea County) of the counties Bacau, Gorj, Mures, Valcea, Calarasi,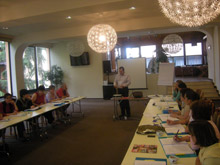 in the field of the EU projects' management and public procurement.
The training programs are carried out within the periods: 16th-20th May; 5th-9th July, 12th-16th July, 13th -17th July, 1st-5th August, 23rd-27th August (two series), 31st August- 4th Septembrie, 5th -9th  September, 13th -17th September, in Constanța and Predeal.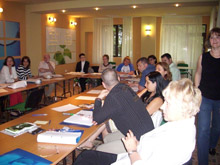 The training activities, conducted by lectures specialized in the two areas aim at the strengthening the effectiveness of the public authorities in raising the European funds and EU projects management, the improvement of the technical facilities of the authorities in the 5 counties, as well as the increasing of the training level of the civil servants in project management and procurement.   The training programs are authorized by the National Council for Adult Lifelong Learning.
The Training Curricula in the project management has three sections: project management, the management of the structural funds and the economic and social cohesion policy of the EU.  The attendees will learn how to allocate and plan activities and resources for a project, the procedures for awarding a public procurement contract, obligations and responsibilities of the persons involved in organizing the call for tenders, as well as items of legislation on the award of these contracts.